Overview
One of the most important questions that Parallax wants to help you answer is when to hire. The Hiring Forecast Report combines your current resourcing picture (driven by the plans on your active projects), and combines that with the potential opportunities in your pipeline to generate a clear picture of potential demand on your capacity.
The report gives you the ability to change the scenario by choosing to include/exclude certain active projects, pipeline opportunities, and staff members.
Jump to:
How does it work?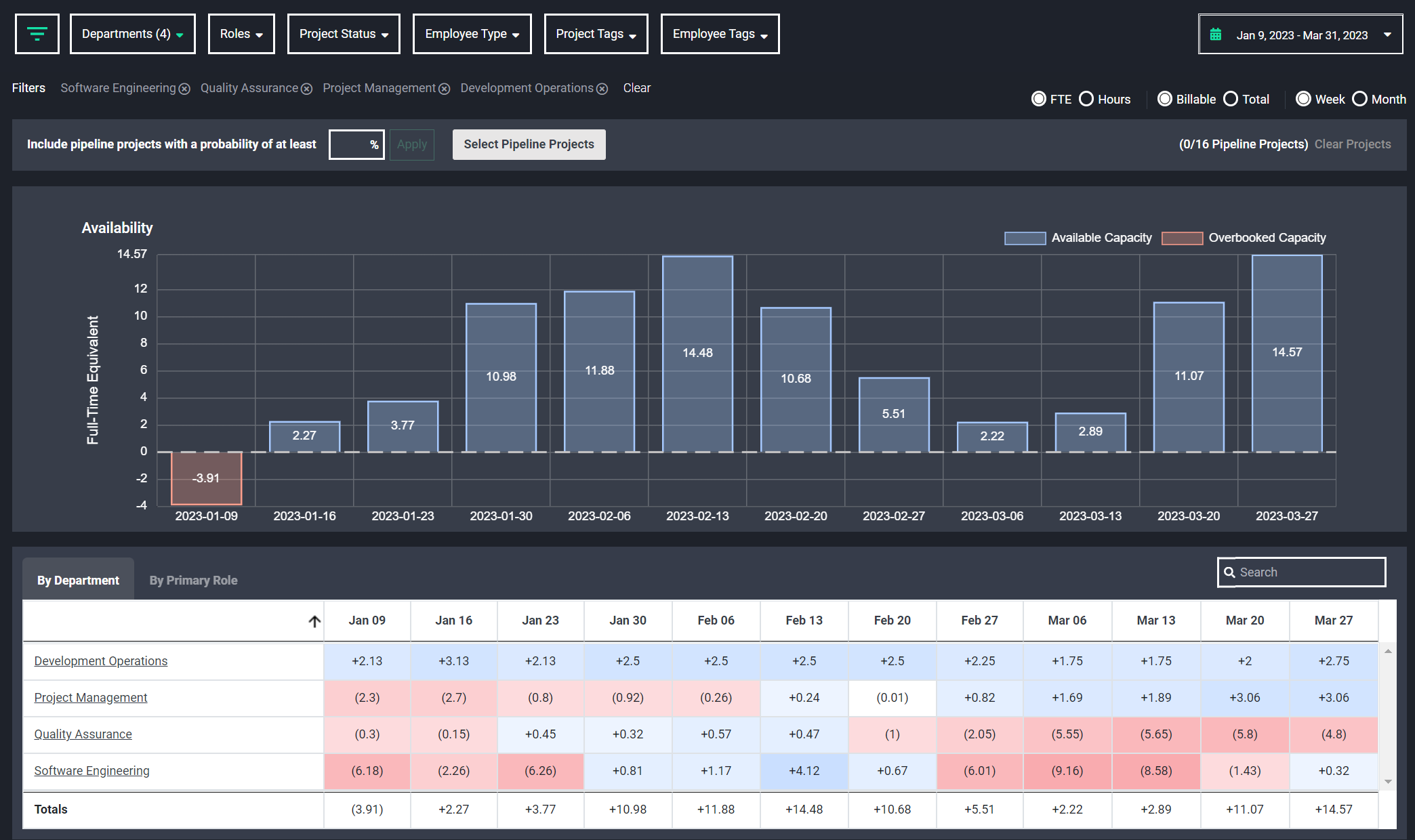 You'll start with a heat map display of how much free capacity your team currently has. This is derived from your current allocations across active projects only, and does not include any pipeline opportunity. In the example image above, we can see the ebb and flow of free capacity peaking at about 14.5 full time equivalents (FTEs) at the high point, and about 2 FTEs at the low point.
Parallax Tip - Full Time Equivalent
Parallax calculates a full time equivalent employee (FTE) by dividing displayed capacity by your total available capacity which is managed via the Organization Base Schedule in Customization Settings.
20 hours of available capacity
divided by 40 hours of total available capacity (Organization Base Schedule)
equals .5 FTE
(20/40 = .5).
Next you will want to explore the change in demand that your pipeline opportunities might provide. You'll do this by either:
Bulk selecting pipeline opportunities based on CRM driven stage probability %, or
Individually selecting from a list of shaped Pipeline Projects within your specified time-window via the Select Pipeline Projects button.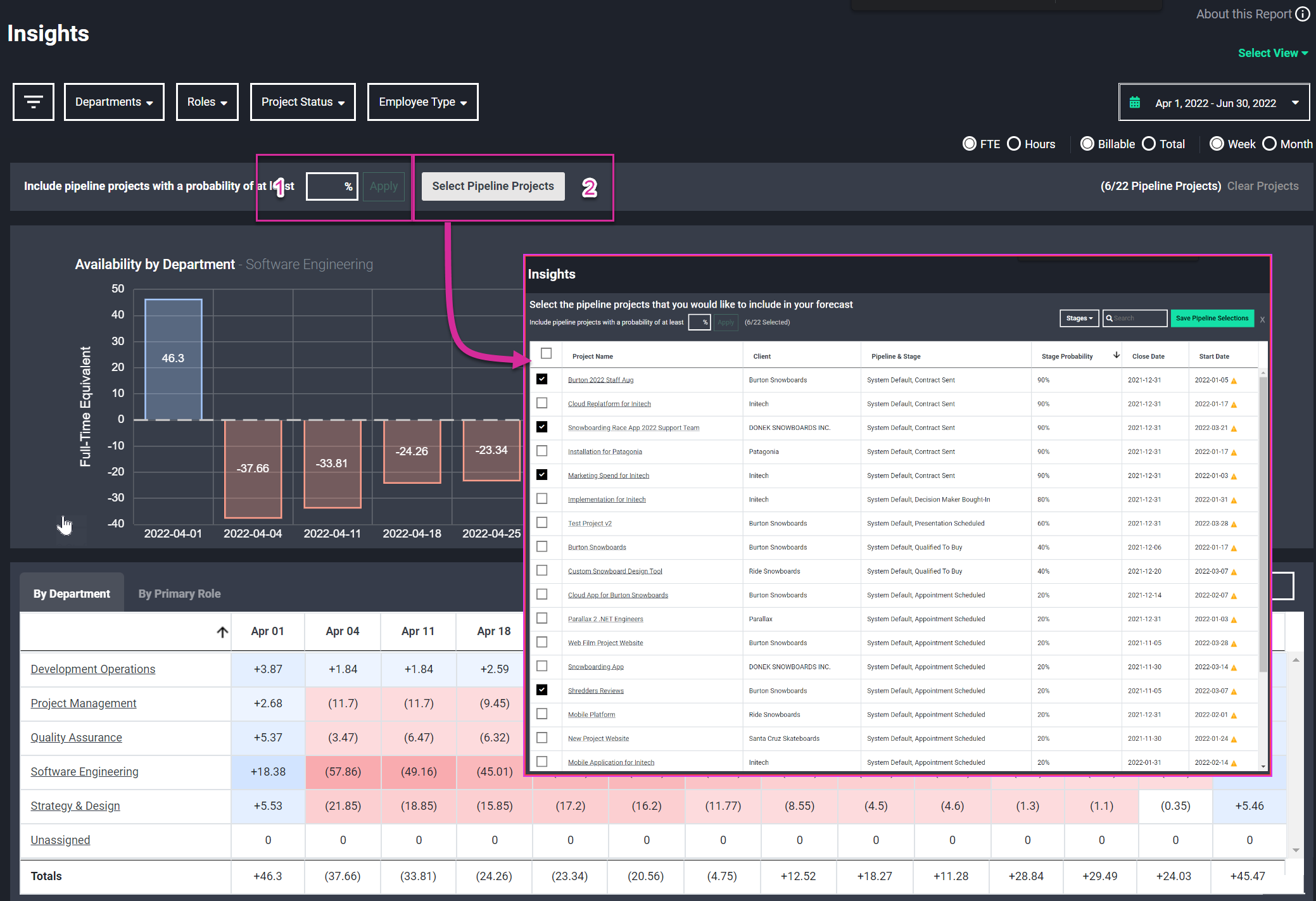 With your pipeline opportunities selected, you will then see an adjusted heat map and visualization as the extra demand from these potential opportunities is applied against your current available capacity. You've now built a view into your capacity and demand that you can leverage in forecasting hiring decisions!
Parallax Tip - When to Use
We recommend incorporating this forecast into your weekly cadence so you are always ahead of any hiring decisions that need to be made. Sales forecasts change regularly, and this proactivity will help you avoid the rush hiring jobs we frequently find ourselves in.
Navigating the User Interface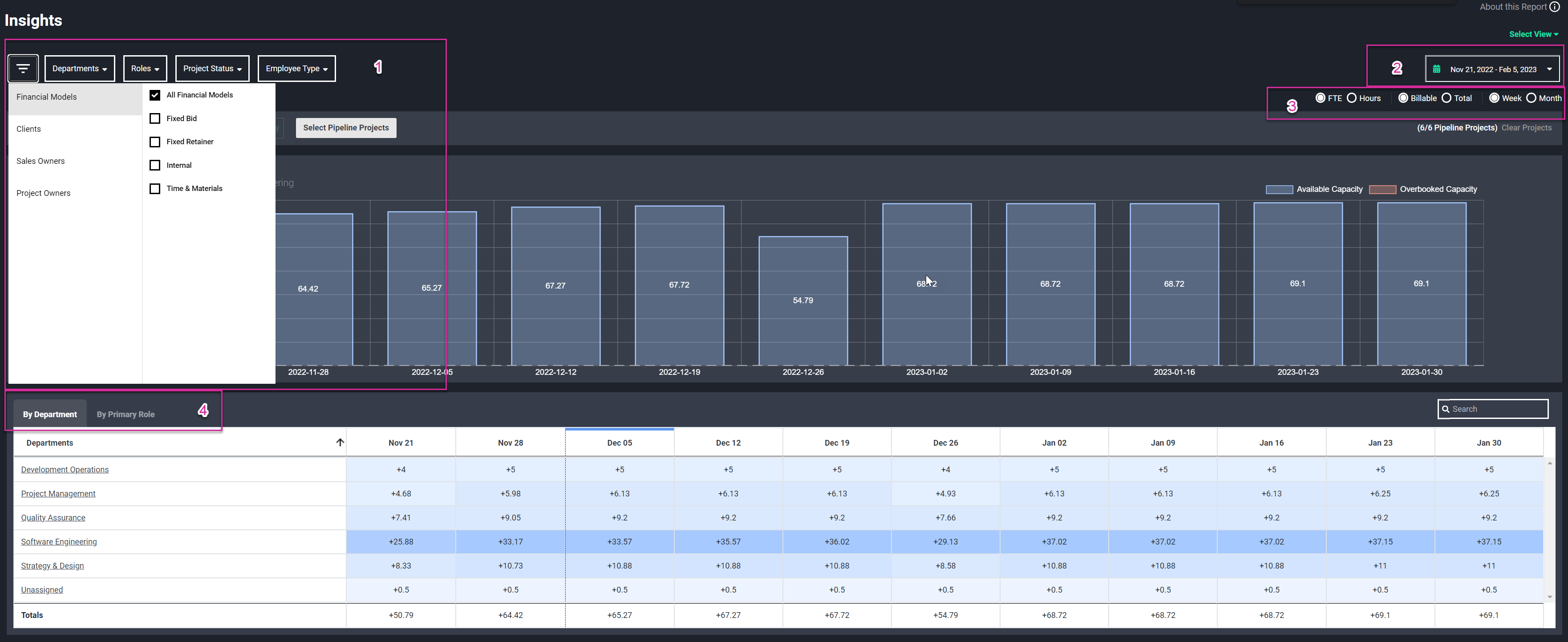 Adjust Filters: You can use the filters to curate a specific look into what's most important for you. Currently there are filters for:

Financial Model
Clients
Sales Owners
Project Owners
Department
Role
Project Status
Worker Type
Person Tags
Project Tags

Update Date Range: The report will come defaulted to a 12 week look forward (which we recommend), but you can update the time frame to your needs using the date picker.
Customize View: This report allows you to toggle between different data views so you can best suit the view you're looking at:

FTE v Hours - Our recommendation is to leverage FTE for higher level views and switching to Hours when looking at individual People
Billable v Total Capacity - This allows you to adjust how available capacity is defined. Are we referring to just billable capacity (our recommendation) or total available capacity?
Week v Month

Aggregate by Department or by Role: Use these tabs if you want to see your heat map aggregated by all available departments in your organization, or all available roles. Use the filters for Department and Role to simplify down to a specific subset of departments / roles where needed.
Exploring a Scenario
The How Does it Work section of this article walks you through how to build a high level look into your hiring forecast, but what if we want to be more intentional with what is included in that forecast?
Whether viewing the report via the By Department tab, or the By Role tab, clicking the hyperlinked name of a department or role will bring you into the scenario planning interface. This interface is broken into three sections:
Included People




Here you see a heat map of available capacity broken down by each individual Person included in your selected department or role. This is driven by the Primary Role associated to their Settings > People profile.
Use the check boxes next to their names to include or exclude their capacity from the scenario.

Included Project Roles - In Progress Projects




This section includes all active project assignments for the people in the Included People section regardless of how they are staffed on projects.
Assignments that do not match a Person's Primary Role will show highlighted in red.
Assignments staffed by People outside of the department or role you have drilled into will show highlighted in red.
Unassigned roles will show highlighted in red.
Use the check boxes next to their names to include or exclude this assignment's demand on capacity.

Included Project Roles - Pipeline Projects




If pipeline opportunities have been selected and added to the scenario, they will display at the bottom in their own section
Use the check boxes next to the names to include or exclude these opportunity's demand on capacity.
What does the Hiring Forecast actually tell me?
The intent of the Hiring Forecast is to give you a powerful tool to identify what's coming down the Pipeline and to plan ahead based on any number of different scenarios. Use the detailed scenario view to explore all of the potential "what if?" possibilities. What if I lose this person? What if we lose this client? What if these opportunities come in? What if they don't?
The Hiring Forecast puts you in control by helping you make an informed decision based on what you expect to happen. Many organizations don't take the time to review their hiring forecast frequently enough, and we encourage you to incorporate this look into your weekly planning sessions.