Overview
Let's go over the billing models we support: T&M, Fixed Bid, Fixed Retainer, and Internal.
Time & Material (T&M)
T&M is when the revenue for the offering equals the sum of individual role's/people's bill rates times hours worked. This billing model is most commonly used.
Does not have a budget cap
The bill rate is pulled from the rate card but can be overwritten on the project's Financial Settings page. Create or edit rate cards within Settings.
Has an optional budget cap (Not To Exceed) limit that can be set. If an NTE limit is set:

Revenue for any hours that exceed that limit are calculated with a $0.00 Bill Rate.
Costs will continue to accrue for these hours so you can see the impact on Margin.
A Zero Bill Fees column in the Project Details Page Overview will track potential/lost revenue for these $0.00 Bill Rate hours.
Fixed Bid
Fixed Bid is when the price is a set at sale, and spread evenly accross the project. That price does not change for the duration of the project.
Win a contract by promising to deliver X features for Y money
We start with the Y money and calculate a blended rate (planning) to give all assigned Person the same bill rate given assigned hours to achieve the Y revenue goal.
This becomes an effective rate once the project is in progress (tracking). Allocations may be added or removed given the project's ongoing needs, causing the effective bill rate to fluctuate.
All roles from point of sale should end up with same bill rate; all roles added after point of sale should come in as zero-bill UNLESS offering goal values are updated in Financial Settings.
Fixed Retainer
A Fixed Retainer pricing model is very similar to a fixed bid, but there is an agreed fee for a set amount of time. Retainers are best for clients with long-term goals and needs. They essentially buy your time and priority for a set amount of projects over a set timeframe.
The effective rate is calculated by taking the total budget per period (typically monthly) and dividing it by the number of planned hours in said period.
Internal
Internal hours represent a billing model for when you are working hours but no external parties are paying for them. Internal hours can look like several things, but say you are implementing a new filing system within the company, someone has to work on it even if you aren't directly making money from it.
Admin hours
Designed to work with a zero-bill rate card
Should always be all cost; no revenue
Parallax Tip: In Progress Projects!
To change an in-progress project's billing model(s) or rate card(s), the project must be pushed back to Awaiting Start status. Change is then made and then moved back to In Progress.
Note: Projected = Past Actuals + Future Allocations for any model.
Where do I find and manage the Billing Model?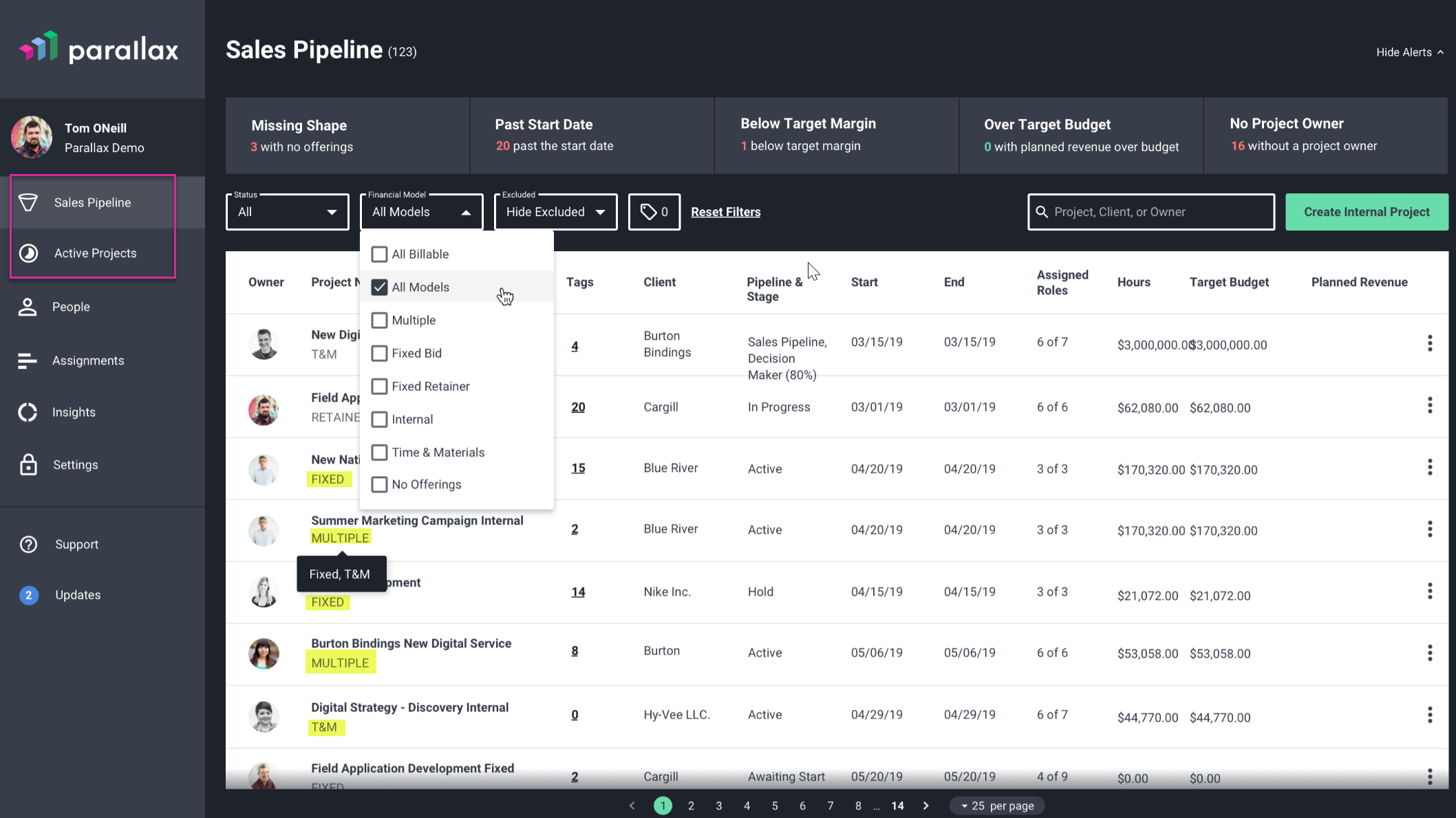 The Billing Model is managed by Project Offering, and is visible in the following places:
The Listing Page (Sales Pipeline or Active Projects)
In the Shaper and Assignments View
On the Project Details Page
Under Financial Settings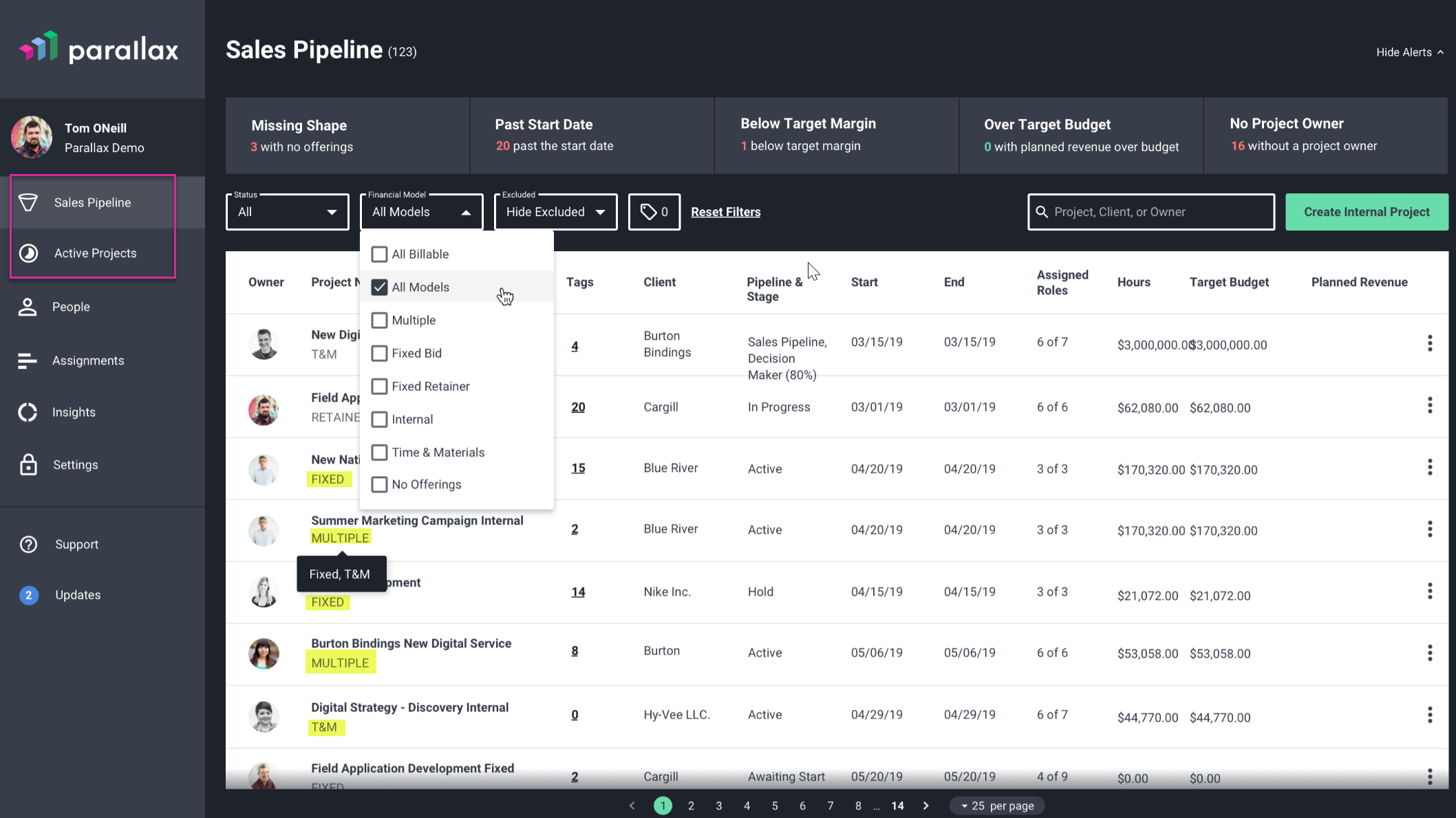 That last one, Financial Settings, is where you will manage the Financial Models for each Project will be on the Project Details Page, under Financial Settings. You can find out more through our article on Financial Settings.