Overview
This week we've got several changes that will help improve your Parallax experience! If personalizing, customizing and exploring new options is your thing, check out below for some great new enhancements that have arrived this week!
| | |
| --- | --- |
| Saved Views | Check out our new Saved Views functionality in this section to streamline the way you view pages in Parallax! |
| Assignments View Filter Updates | We've changed where you'll add filters to the Assignments View! Take a look in this section to see what this change looks like and what new filter options we're adding. |
| Collapsible Offerings | Take a look at new Collapsible Offerings in order to keep your page clean and see only the Offerings you're working on. |
| Saving Offering Templates | You can now save your Shape right from the Shaper for future use as a Template for other Projects. Check out this section to find out how! |
Saved Views
Saved Views are an exciting new way to customize and streamline your navigation within Listing Pages, Assignments View and Insights in Parallax. Saved Views allow you to "bookmark" sets of Filters that you can toggle between in order jump to subsets of Projects or Data that you've identified as important. By adding and using Saved Filters, you can start with what matters to you and work backwards instead drilling down each time you visit Parallax.
Check out our article on this new functionality for how Saved Views work!
Assignments View Filter Updates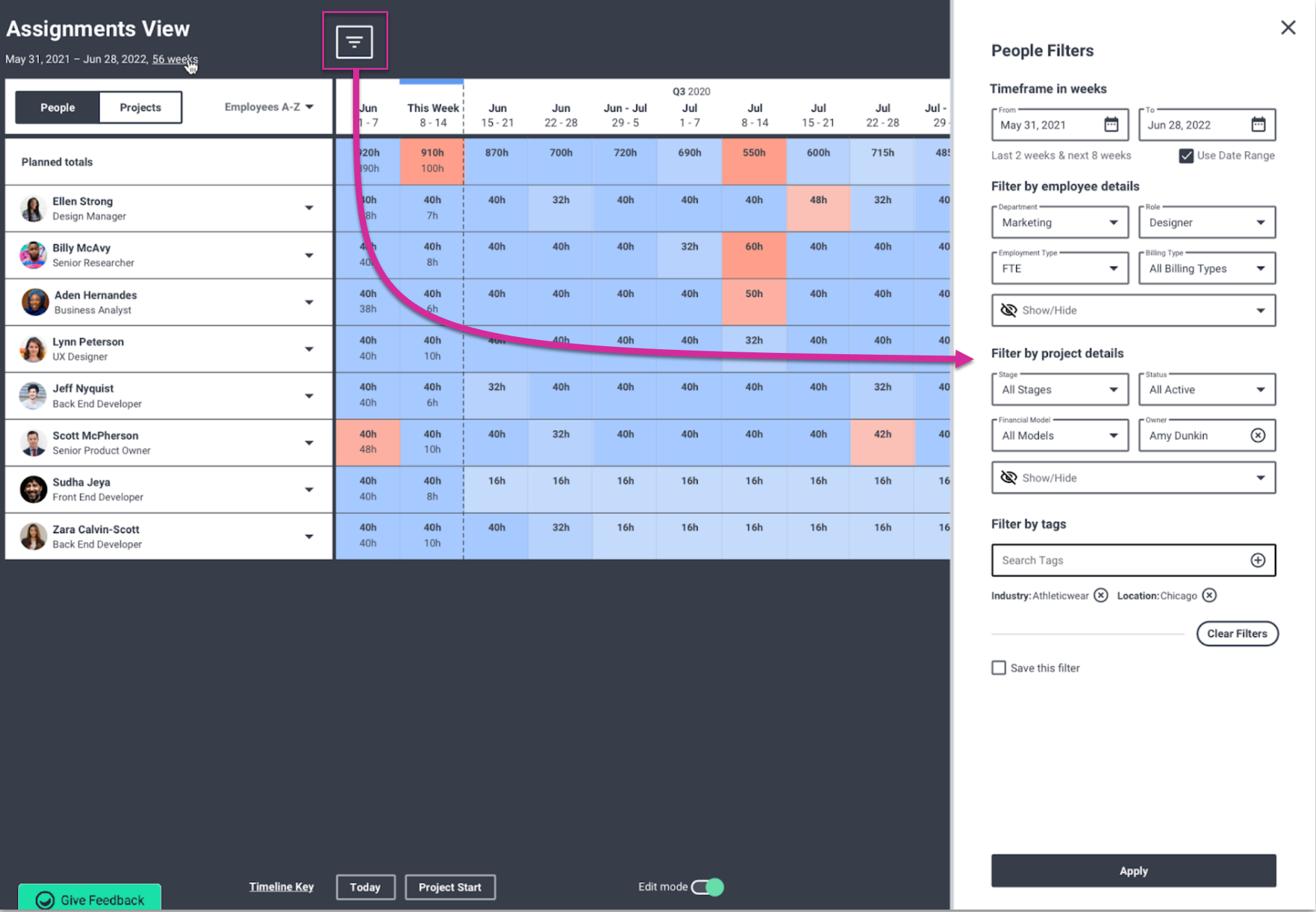 In order to accommodate Saved Views, as well as to helping minimize loading between selections, we've moved Filters in your Assignments View to a new side-drawer. Here, you can set several filters (including some new ones, we'll talk about below) and apply them all at once!
You'll still be able to see the Filters you've got assigned (with a "..." if more filters are applied than we can display), and you can still clear those Filters - it will look something like this:

However, as when you add new filters, you'll click on the Filter Icon in order to open this sleek new drawer. In addition to the previously available filters, we've added the following filtering functionality:
Rolling Timeframe vs. Range - You can now swap back and forth between viewing a rolling time-frame (ex. Last 6 weeks) or by a specific date range.
Filter Categories - Filters are now categorized into by employee details, by project details and by tags for a more streamlined view.
Owner Filter - You can now select from a list of Sales and Project Owners to filter from!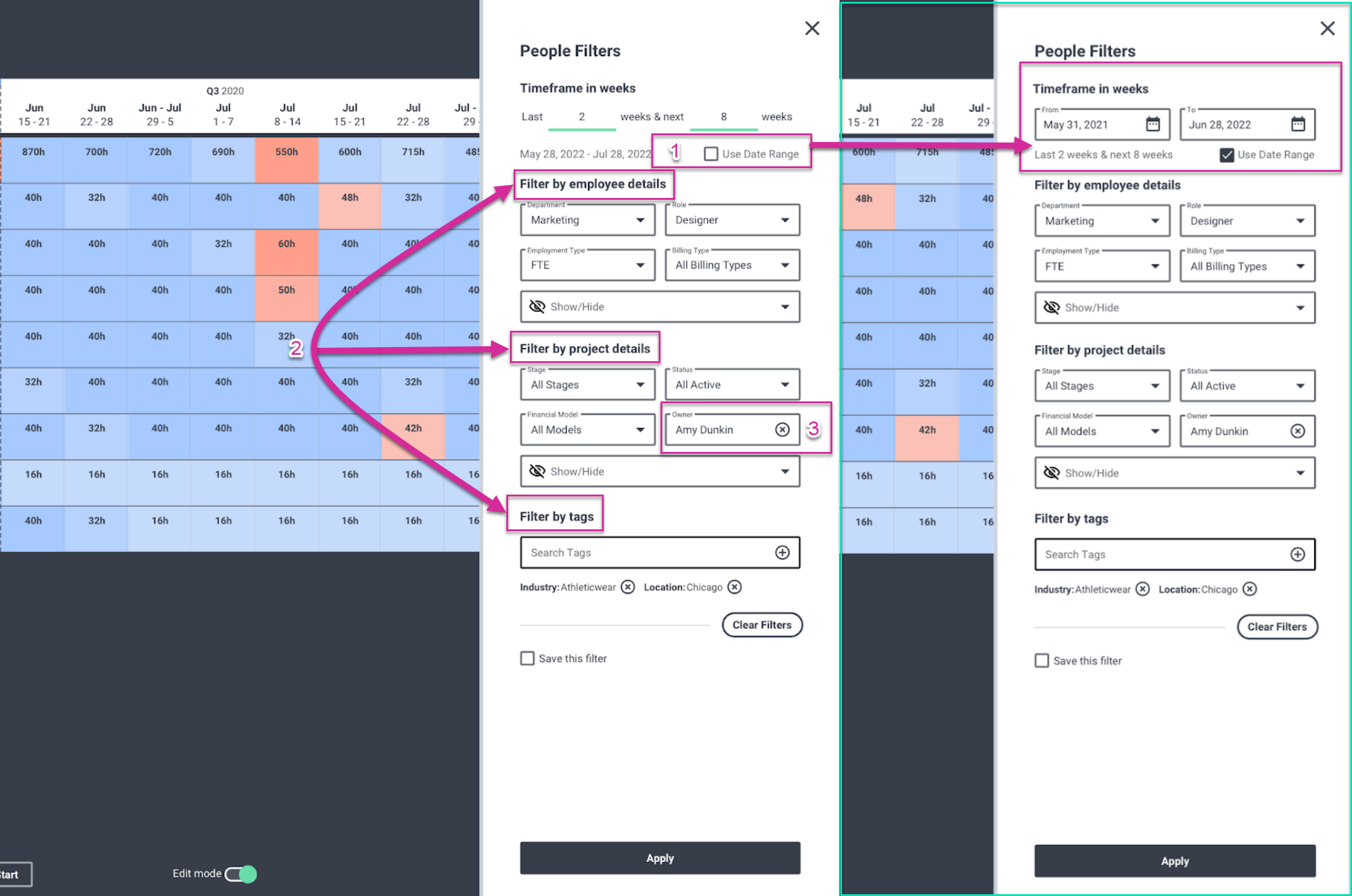 Collapsible Offerings
We understand that with bigger Projects, there may be a lot of Offerings - and you might not be working on them all at once. To help avoid clutter and help you get at what matters the most, you can now collapse Offerings you're not working on - both within the Shaper and the Project Overview. Check out our article on this functionality for more info!
Saving Offering Templates
While you've always been able to save Customized Offerings within Parallax, a significant pain point that's been brought to our attention has been the need to plan that Shape out in advance. Have you ever been working on a Project and realized mid-Allocation that this would make a great Template for other Offerings? We've heard you; it's not convenient to go to your Settings > Service Offerings and try to re-create it - not when you've already done the work!
With our 11/23 release, you can now save a Service Offering Template right from the Shaper - just follow the steps below:
Right Click on the Header of the Offering
Select "Save as Template"
Enter a Template Name and click "Save"
Simple as that!