Overview
The Customization page allows you to set default settings for your People, Projects and the Views within your Shaper and Assignments View. Once set, they can be adjusted as needed at a later time by Users with the appropriate Permissions.
| | |
| --- | --- |
| What you will see in Customization | Check here for the layout of the page and what everything does. |
| | Some key actions you'll perform on the Roles page and how to perform them. |
What you will see in Customization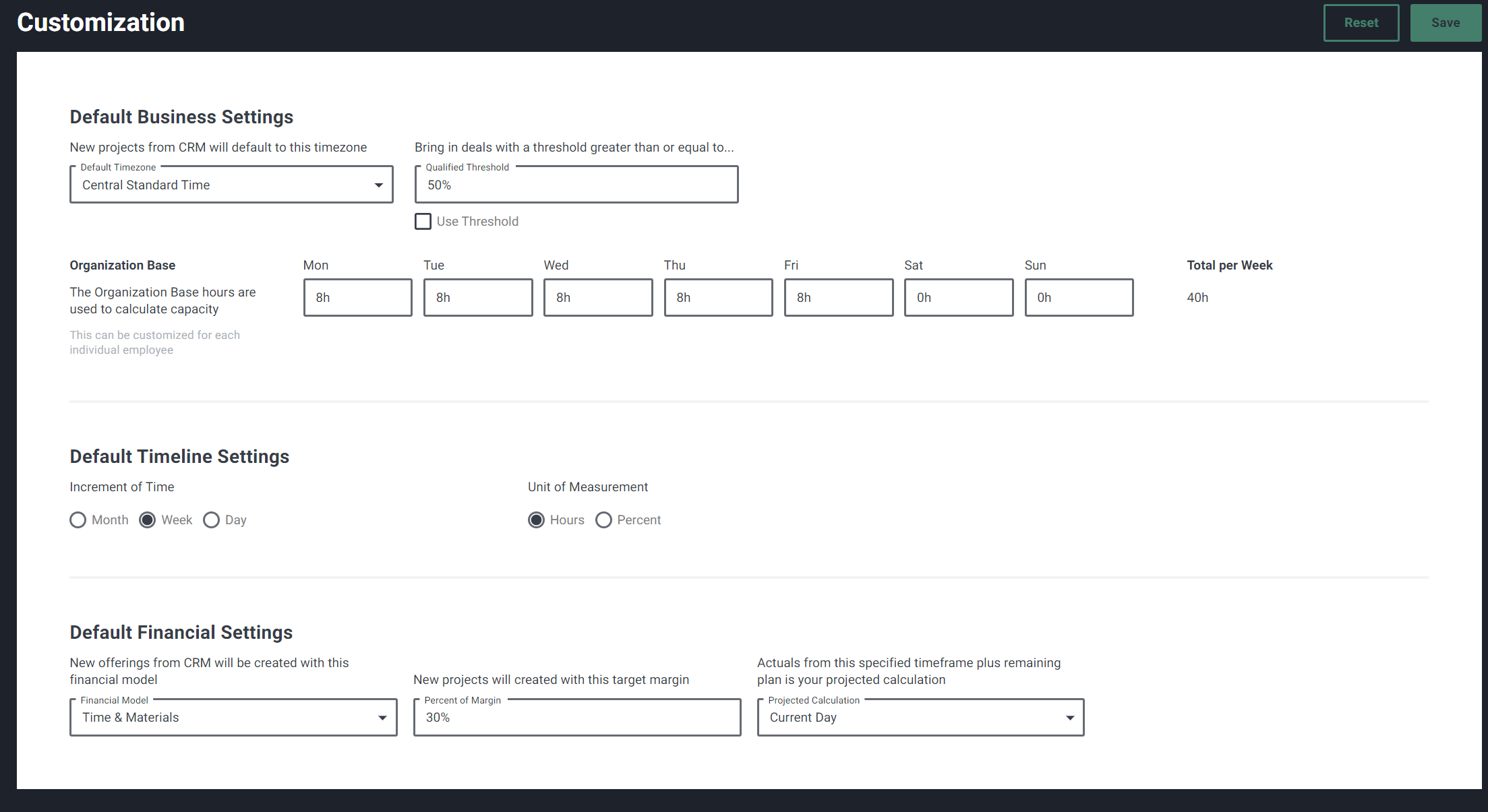 Default Time Zone - This the time zone that new Projects from your CRM will be set to. This setting does not affect any view within PX.
Qualified Threshold - Select what level view you wish to see in Parallax from your CRM Pipeline. Recommendation is to view all deals of 50% or greater probability of closing. You can use the filter on the Sales Pipeline to see ALL DEALS 0-100% at any time but for the main view the % you select will be the quailed deal stage that is first shown.
Organization Base schedule - This is a default weekly schedule and hours you set for People. It is used to calculate overall capacity. To set individual people's hours if different than the standard default hours set in customization, you can do this in Settings > People using the override checkbox.
Default Timeline Settings - Set the starting View for the Shaper and Assignment Views by selecting the Increment of time (Month, Week, Day) and Unit of measurement (Hours, or Percent and FTE). These Views can be changed at any time by each User while accessing the Shaper and Assignments Views, this setting controls only the starting state. These can also be altered for viewing within the Projects and Insights at any time.
Default Financial Settings - Determine the default Billing Model, Margin and Projected Calculation that new Projects are assigned as they appear from your CRM. These settings can be updated from the Financial Settings section of a Project for any Project that does not fit the default setting.
Parallax Tip: Why do Actuals stop at last week in some places?
If you are using the Last Week setting for Projected Calculations, you will still see this weeks Actuals within the Shaper, however, calculations and projections within Parallax will only include actuals through the end of the previous week. This is useful for companies who provide reporting to clients on a weekly basis, since if time logged to projects are updated weekly instead of daily.
What you can do in Customization
Change the Time Zone for incoming Deals:
Select the desired Time Zone under Default Time Zone
Click "Save"
Note: This will apply only to new Projects brought in from your CRM, rather than existing Projects
Set/Update a Qualified Deal Threshold:
Select "Use Threshold"
Set Threshold to desired Deal certainty
Click "Save"
Note: This will apply only to new Projects brought in from your CRM, rather than existing Projects
Set Organization Base Hours:
Enter the desired hours for each day of the week
Note: Total per Week will be automatically calculated for you
Click "Save"
Adjust Default Timeline Settings:
Update the Increment of Time to Month, Week or Day
Update Unit of Measurement to Hours or Percent
Click "Save"
Set Default Financial Settings:
Select the desired Billing Model from the Billing Model dropdown
Enter the desired Margin Percentage
Select either Current Day or Last Week under Projected Calculation dropdown
Click "Save"
Note: This will apply only to new Projects brought in from your CRM, rather than existing Projects