Overview
Your Project is Shaped and ready, and the Start Date has arrived - it's time to start your Project and that means Timesheets! While you can connect an existing Timesheet project that you've already created, it's much easier to provision without ever leaving Parallax. In this article, we'll show you how!
| | |
| --- | --- |
| Provisioning from the Integrations Tab | Want to provision your Timesheet Projects one at a time? This is where you'll find out how to do that! |
| Provisioning while moving to In Progress | Want to wait and provision all of your Timesheets at once? Check out here for instructions on how to provision while moving to In Progress. |
Provisioning from the Integrations Tab
While, as you'll see in the next section, you can provision your Timesheet Projects all at once - doing that requires moving the Project to In Progress status, which you might not want to do. Maybe you're working to get ahead on a Project you know is starting soon. Maybe you don't want to provision Timesheet projects for every Offering at the same time. Maybe you just like to provision each Timesheet Project and inspect it before doing the next one. Whatever the case may be, the Integrations Tab for your Project is where you can provision one Timesheet project at a time (as well as review and disconnect/reconnect existing Timesheet Projects!).
The steps to do this are very easy:
Find the Offering you want to provision a Timesheet Project for and Click the "Provision New" Button
(New Clients Only)* select from the list of existing unpaired Timesheet Clients or Create a New Timesheet Client
Click on the "Activate" button that appears
Check out the GIF below for an example!
*Important: Timesheet map Clients only the first time!
If you've previously connected a Timesheet Project with a Timesheet Client, you should never see Step 2. If you're seeing Step 2, you won't see the existing Client, because it's already paired - you're typically seeing Step 2 because you've got a Duplicate Client on the Project. Check out our article on Client management to find out more.
Parallax Tip: Don't go too fast!
It takes some time for Parallax to communicate with your Timesheet provider, and Parallax needs to provision one Timesheet Project before starting another. If you try to provision a second project before the first is done, it won't work.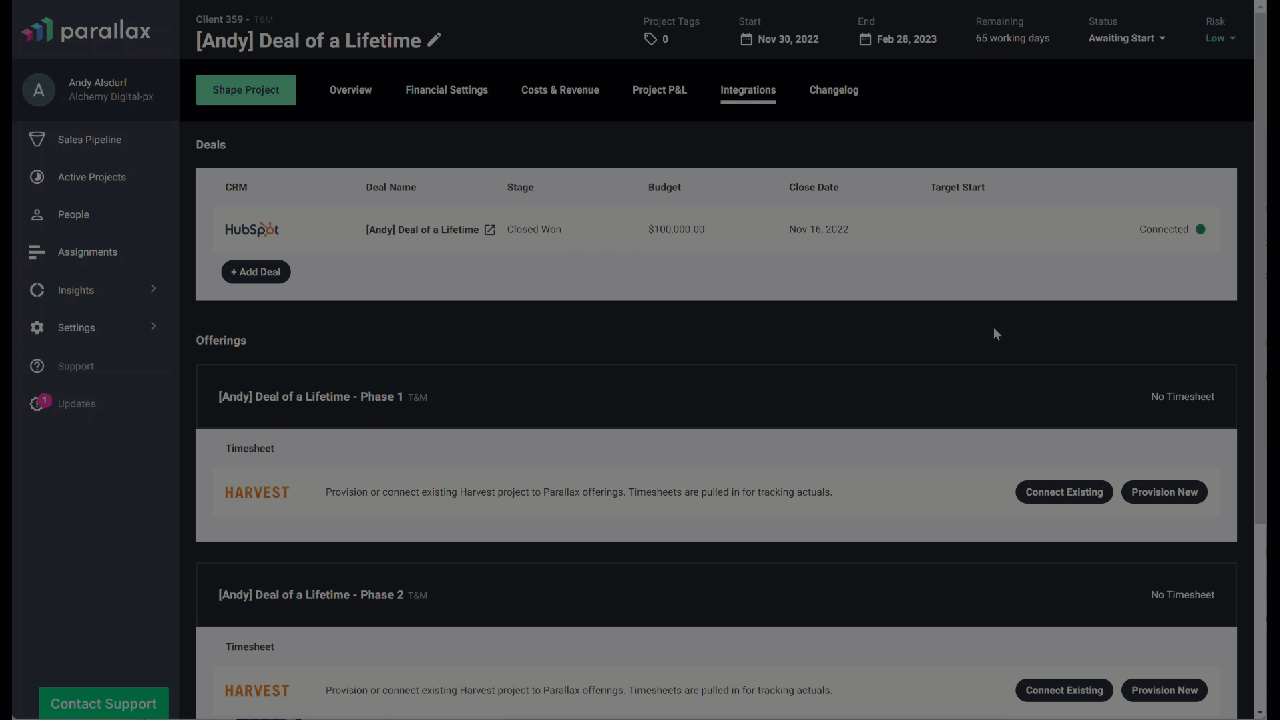 Provisioning while moving to In Progress
This is the easiest and fastest way to provision Timesheet projects, because it fits right into what you're already doing! When you move your Project from Awaiting Start to In Progress, you'll be prompted to automatically provision Timesheets for any or all of the Offerings that aren't yet connected.
You can do this from any tab on the Project Details Page by changing the status to In Progress - in the module that appears, check the boxes next to any Offerings you want to provision Timesheet Projects for*, and click "Yes, Save & Close". Easy as that!
Parallax Tip: We'll always assume you want to provision Timesheets!
When you move to In Progress, you'll start with all boxes checked for each Offering - so if there are any you don't want to provision, make sure to uncheck those boxes!