Overview
This week, we've made several enhancements in order to make assigning Projects, understanding/editing Allocations and customizing Permissions much easier! We've grouped these enhancements into four separate categories below - check them out to learn all about the changes we've made to make your Parallax experience better!
| | |
| --- | --- |
| Assignments View Editing Enhancements | We've enhanced your ability to assign people through the Assignments View here are some shortcuts to find out: |
| | We've added the ability to change assignments on other Projects without leaving the Shaper. Check out the full story below or click these shortcuts: |
| | We've updated the color Alerts within both the Shaper and Assignments View to be less confusing - read on or skip ahead: |
| Permissions: Cost/Margin Permission Updates | We've expanded Permissions to split out Margin % from Cost and Margin visibility. Jump ahead to find out more: |
Assignments View Editing Enhancements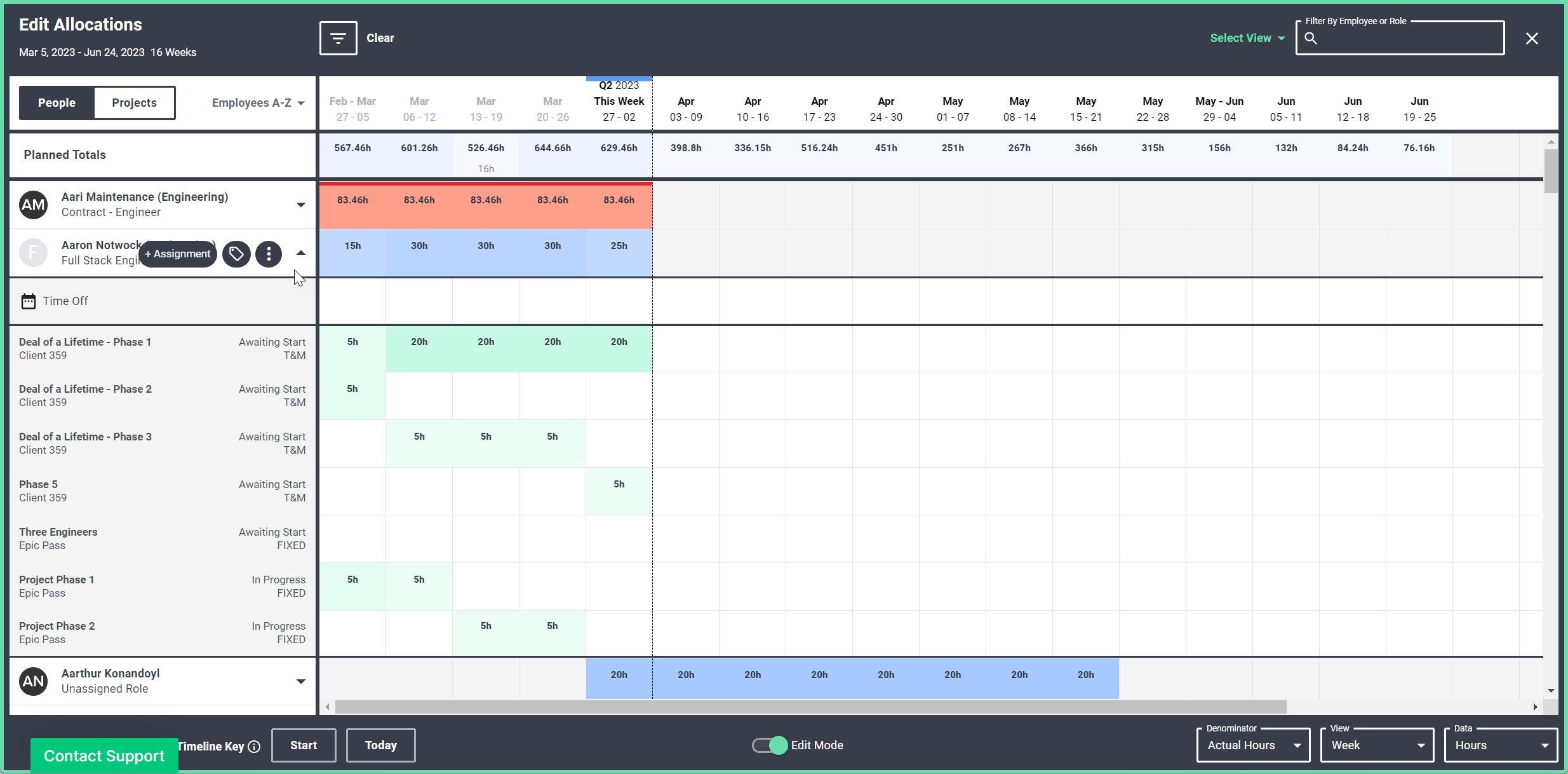 What has changed?
In the People section of the Assignments View, we've added the ability to search out a Project and Offering in order to add an Employee to it. Now, when in Edit Mode of the Employees section, we've added an "Add Project" button that you can see on a hover state. Now, you can assign Employees to Project Offerings right from People section of the Assignments View.
What how does it work?
It's really simple, just:
Make sure you're in Edit Mode
Hover over the Employee you want to add to a Project
Click the "Add to Project" Button
Search for the correct Project and Offering you want to add them* to
Click on it to add them to that Offering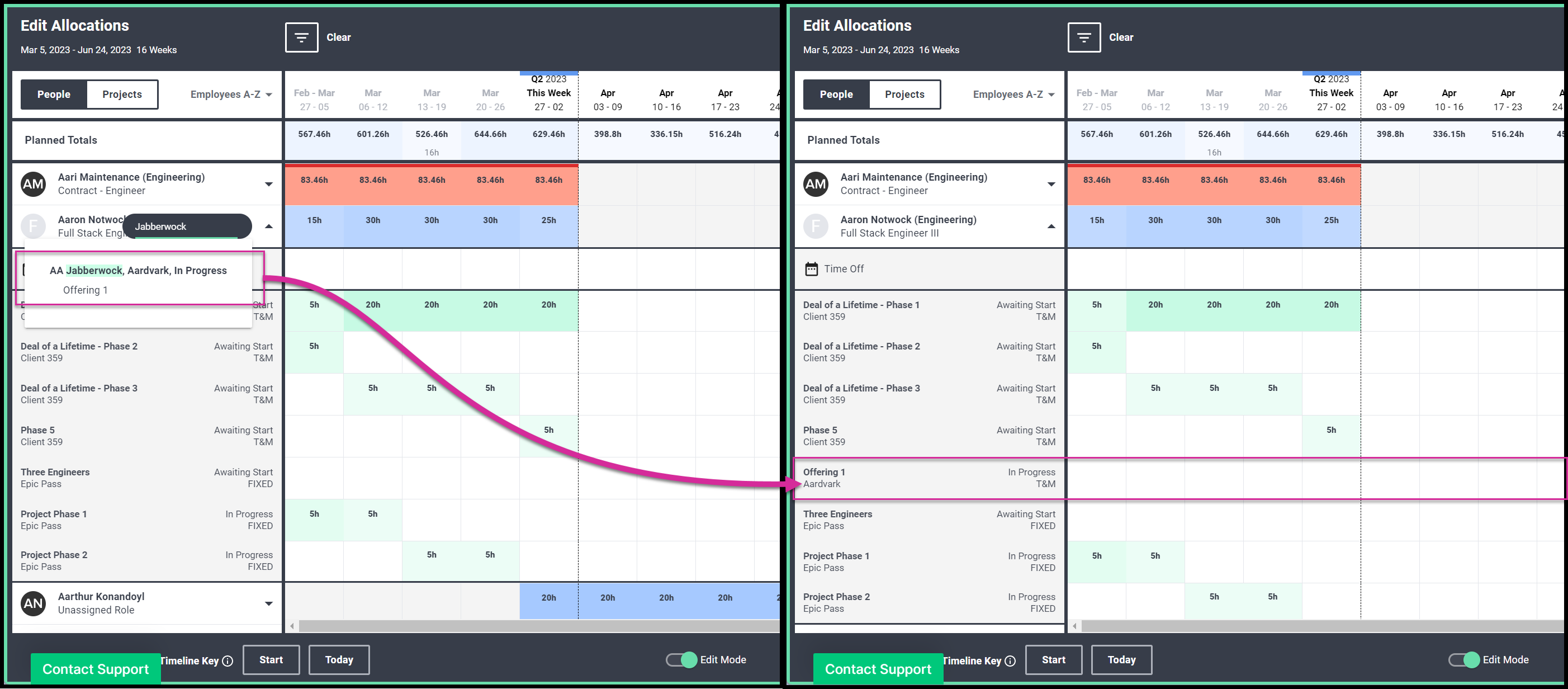 When you assign Employees in this way, they won't have a Project Role, so you'll still want to make sure to add them to a Role through the Projects section or the Project itself.
*Parallax Tip: What can I search by?
When looking for a Project to assign an Employee to, you can search by Project Name, Offering Name or Client Name.
Edit other Assignments from the Shaper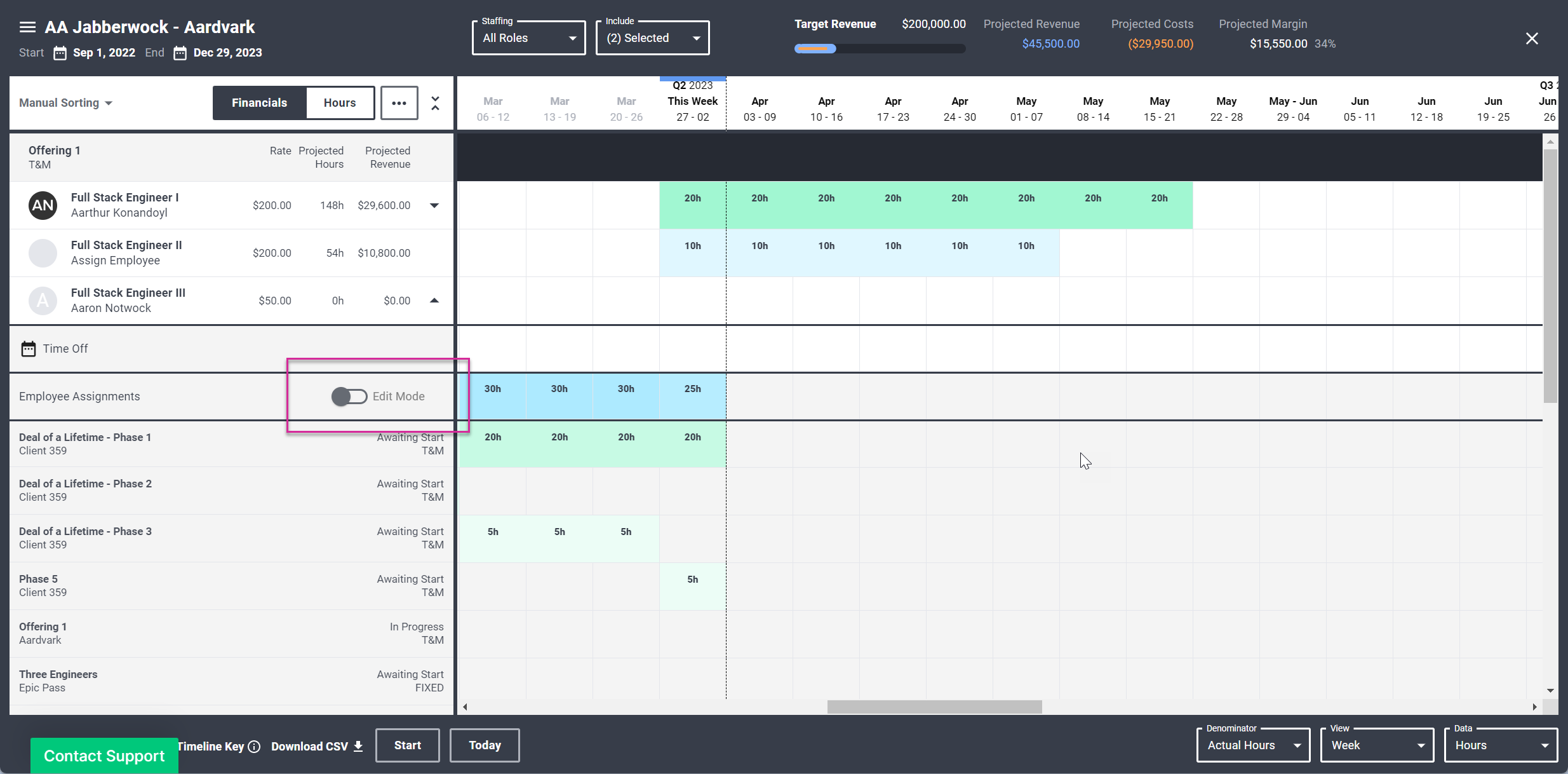 What has changed?
Historically, the Shaper has only been used for editing assignments for a single Project; while you can see other Assignments, you would need to visit the Assignments View or the Shaper for the other Project you want to change.
With this release, we're cutting out the middle-man! Users with edit capabilities will now be able to turn on an Edit Mode within an Employee's Assignments drawer in the Shaper, in order to edit the other Projects the Employee is assigned to.
What how does it work?
Editing an Employee's assignments in the Shaper is easy - you simply:
Click the arrow in the left-side total box to open their Drawer and view their Assignments
Toggle the new Edit Mode on
Click into the cells to make changes - just like you would with Assignments for the current Project!

We hope you enjoy this streamlined way of updating Allocations!
Shaper and Assignments View Alerts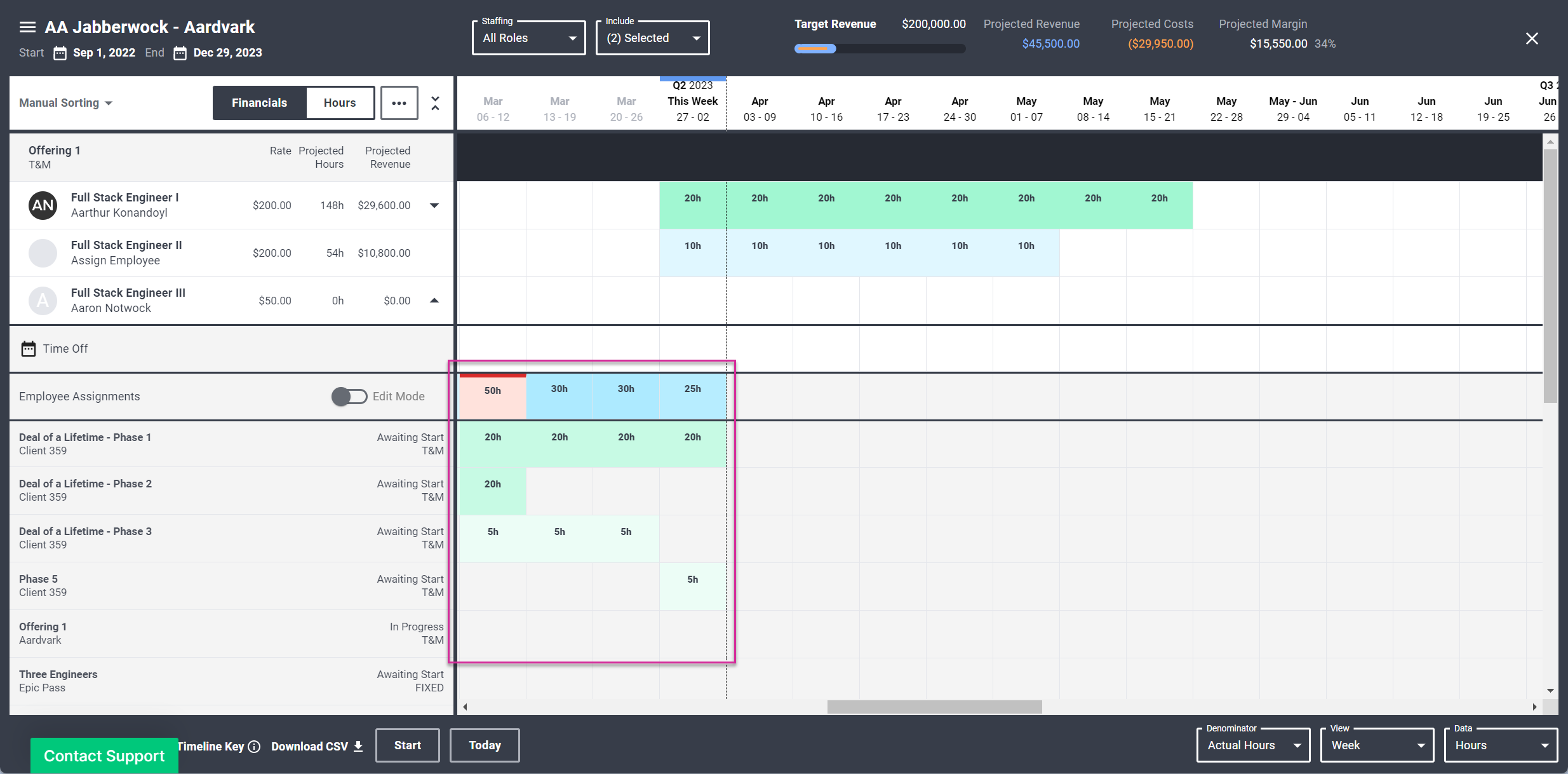 What has changed?
We've also updated the cell color Alerts in the People section to be less confusing! While the color Alerts in roll-up row that summarizes an Employee's Allocations will continue to be based on all included Allocations, each row in the Drawer will have independent alerts.
Now if when viewing an Employee that's is over-allocated, it won't appear as if every Project is over-allocated. This is not only less confusing, but allows the instances where an Employee was over-allocated beyond their Capacity on one single project to stand out visually.
What how does it work?
When viewing the Assignments View, you shouldn't notice any changes to the total roll-up row you see for each Employee. Where you'll notice the difference is when you open an Employee's Drawer.
Individual Projects where the Employee's Allocations are at/under Capacity for just that Project (example: 40h of a 40h week allocated to one project) will no longer trigger coloring Alerts - even if their total Allocations are over Capacity in the roll-up.
However, Projects where the Allocations for that individual Allocations are over Capacity will still be highlighted (example: 44h of a 40h week allocated to one project).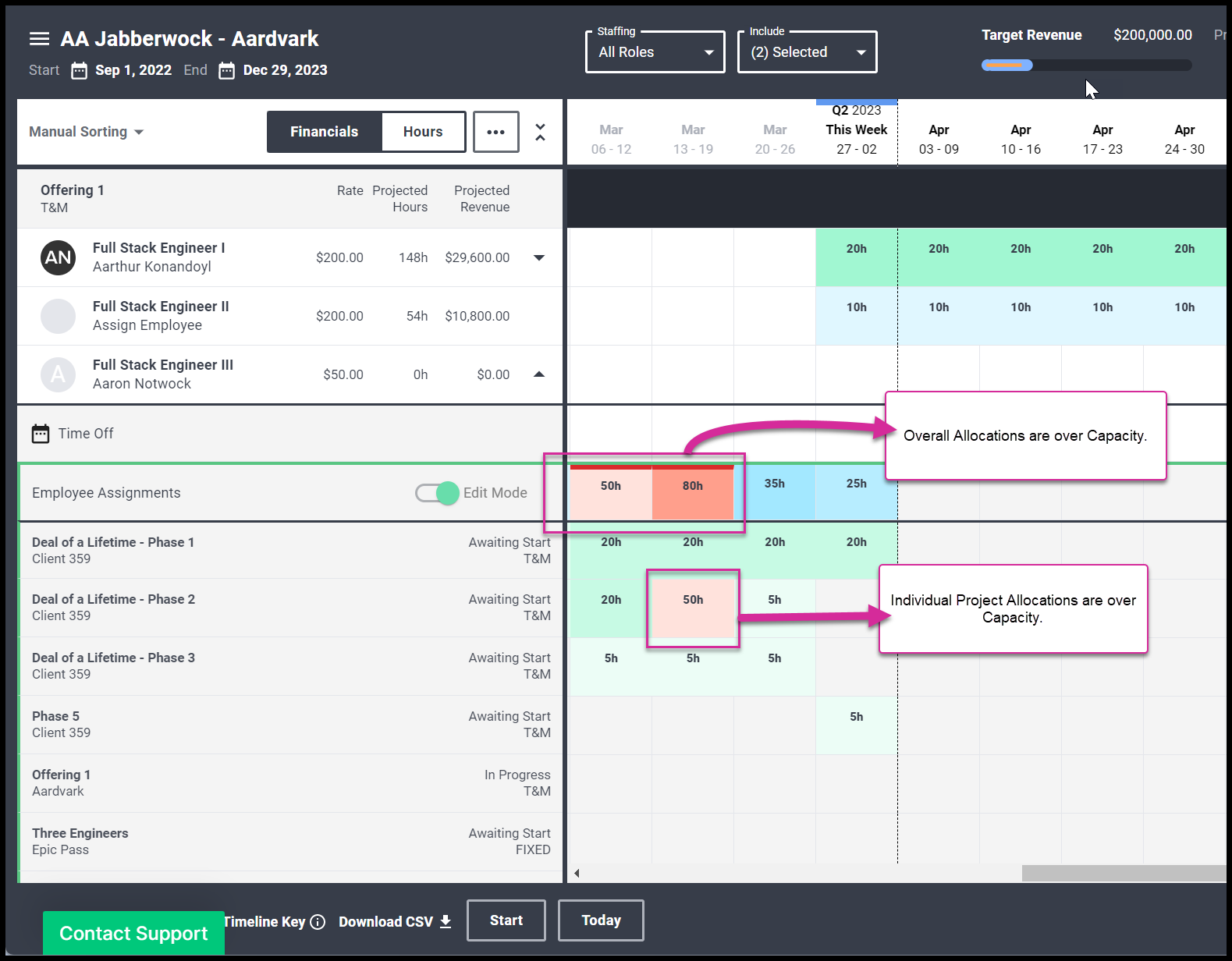 Permissions: Cost/Margin Permission Updates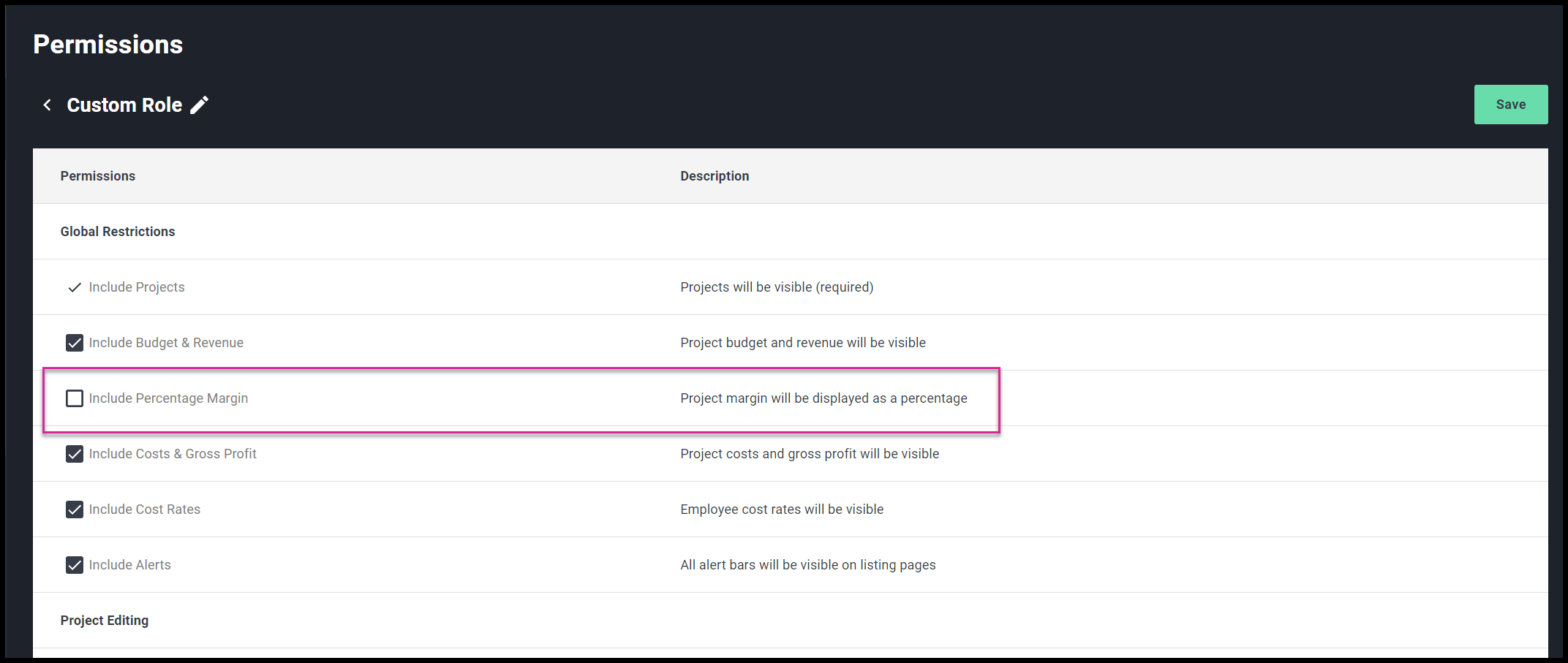 What has changed?
Prior to this update, when doling out permissions to the Permissions roles in Settings > Permissions, you would have seen a Permission called "Include Costs & Margins". Enabling this Permission would allow the Users in that role to see both Projects' Cost and Gross Profit, as well as the percentage Margin (Revenue - Cost).
However, as of our update, this has been split into two Permissions:
Include Percent Margin - This will allow Users to see the % Margin on the Project
Include Costs & Gross Profit - This will allow Users to see Project Costs (Projected and Actual) and Gross Profit in $
This way, you can set the Permission level appropriate to the role you want filled!
What how does it work?
What you'll see change can be broken down into three categories:
Roles with BOTH Percentage Margin and Costs & Gross Profit - Nothing will change. Admins, for example, should see no difference at all.
Roles with ONLY Percentage Margin - Will see the % columns for Sold, Projected, Actuals and Remaining (P&L Page) and the Margin % column on the Product Details Overview Page. Will NOT see Margin
However, roles that are given *just* the Include Percent Margin will see the Margin section in the Project P&L Page, but will see only the columns for Percentage for Sold, Projected, Actuals and Remaining.

Likewise, on the Project Details Page Overview, those Employees will see the Margin % column for each Offering and in the Financials Graph. However, they will not see the Actual/Projected Cost Columns or the Margin in $ Column on the Offerings, or the Actual Costs or Margin in $ lines within the Financials Graph.

While we expect there won't be many scenarios where you want to enable Include Costs & Gross Profit permission, but *not* the Include Percentage Margin permission, this is theoretically possible with the reverse effect of what's described above.
With this new change, we hope you enjoy the expanded ability to customize permissions to what makes sense for your business!